To get the most out of your plug-in electric vehicle, you must charge it regularly. By charging it frequently, you maximize the range of all-electric vehicles. While most owners do most of their charging at their residence, the number of workplace and public charging stations (known as electric vehicle supply equipment) are steadily increasing every year.
What Are The Different Types of EV Chargers?
Electric vehicle chargers for PHEVs are classified by the rate at which the batteries are charged. The charging times will vary based on how depleted the battery is, how much energy it will hold, the type of battery, and the type of equipment.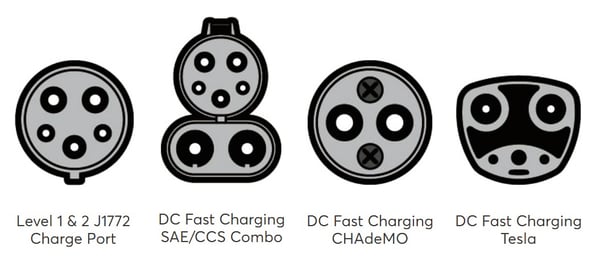 Source: Consumer Reports, "Electric Cars 101: The Answers to All Your EV Questions"

Level 1 EV Charger: 2-5 Miles of Range Per 1 Hour of Charging
Alternating Current (AC) Level 1 equipment provides charging through a 120-volt (V) AC plug. Most plug-in electric vehicles will come with a Level 1 cord set, so no additional charging equipment is required. On one end of the cord is a standard NEMA connector, (for example, a NEMA 5-15, which is a common three-prong household plug) and on the other end is an SAE J1772 standard connector (often referred to simply as J1772). The J1772 connector plugs into the car's J1772 charge port, and the NEMA connector plugs into a standard NEMA wall outlet.
Level 1 EV charging is typically used when there is only a 120V outlet available, such as while charging at home, but can easily provide charging for all a driver's needs. For example, 8 hours of charging at 120V can replenish about 40 miles of electric range for a mid-size plug-in electric vehicle. As of 2019, less than 5% of public charging outlets in the United States were Level 1.
Level 2 EV Charger: 10-20 Miles of Range Per 1 Hour of Charging
AC Level 2 equipment offers charging through 240V (typical in residential applications) or 208V (typical in commercial applications) electrical service. Most homes have 240V service available, and because Level 2 equipment can charge a typical plug-in electric vehicle battery overnight, it is commonly installed at owners' homes for home charging. Level 2 equipment is also commonly used for public and workplace charging. This charging option can operate at up to 80 amperes (Amp) and 19.2 kW. However, most residential Level 2 equipment operates at lower power. Many of these units operate at up to 30 Amps, delivering 7.2 kW of power. These units require a dedicated 40-Amp circuit. As of 2019, over 80% of public outlets in the United States were Level 2.
Level 2 EV charging equipment uses the same J1772 connector and charge port that Level 1 equipment uses. All commercially available electric vehicles can charge using Level 1 and Level 2 charging equipment. Although Tesla vehicles do not have a J1772 charge port, Tesla does sell an adapter.
Level 3 DC Fast EV Charger: 40 to 80 miles of range per 20 minutes of charging
Direct-current (DC) fast charging equipment (typically 208/480V AC three-phase input), enables rapid charging along heavy traffic corridors at installed stations. As of 2020, over 15% of public EVSE ports in the United States were DC fast chargers. There are three types of DC fast charging systems, depending on the type of charge port on the vehicle: SAE Combined Charging System (CCS), CHAdeMO, or Tesla.
The CCS (also known as J1772 combo) connector is unique because a driver can use the same charge port when charging with Level 1, 2, or DC fast equipment. The only difference is that the DC fast charge connector has two additional bottom pins. The CCS connector is used by Chevrolet and BMW plug-in electric vehicles, for example. The CHAdeMO connector is the most common of the three connector types and is used by Nissan, Mitsubishi, and Toyota plug-in PEVs, for example. Tesla vehicles have a unique charge port and connector that works for all their charging options including their fast charging option, called a supercharger.